UToledo Hosts Dialogue on Diversity to Discuss Gandhi Sculpture
September 22nd, 2020 by Christine Billau
The University of Toledo is continuing its Dialogues on Diversity series with a conversation about the role of art in society, the differences between art and monuments, and how to best recognize the achievements of fallible individuals.
The next virtual town hall in the series titled "Stay or Go? The Story of a Gandhi Sculpture" will take place 5:30 p.m. Thursday, Sept. 24 and can be accessed on Webex using the access code 172 458 2365. The meeting password is DoD8. Join by phone at 415.655.0002.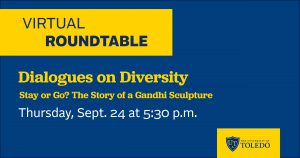 This summer the University removed a sculpture of Mahatma Gandhi, the leader of the Indian independence movement, that was part of the group of new art works installed on campus for UToledo's 15th annual Outdoor Sculpture Exhibition.
The President's Commission on Campus Design and Environment, which chooses new sculptures to be installed at the University each spring, made the decision after a student brought forward concerns about Gandhi's comments about Black Africans and women.
The student wrote, in part, "In this time of movements and stress, I do not think that this Gandhi statue will help."
"The goal of the sculpture program is to add beauty to our campuses through one-year exhibits that rotate annually," said Dr. Jonathan Bossenbroek, professor and chair of the Department of Environmental Sciences and president of the President's Commission on Campus Design and the Environment. "This is a critical example of why it is important to keep these conversations going and include a diversity of voices in decision-making. We are grateful to the student for bringing his concerns to our attention. We did not intend to be offensive, and we do not stand for that."
The University also added students to the selection committee for future exhibitions.
The discussion will be moderated by Bossenbroek, with participants including:
Dr. Dale Snauwaert, professor of social and philosophical foundations of education and peace studies;
Dr. Rachel Dudley, assistant professor in the Department of Women's and Gender Studies;
Dr. Mysoon Rizk, professor of art history;
Riley Danford, UToledo student majoring in human resources who brought forward concerns to the University; and
Sanat Wagh, UToledo student majoring in finance and economics, and member of the International Student Association.
This is the eighth in a series of recent virtual Dialogues on Diversity since George Floyd was killed in Minneapolis by a police officer, sparking protests against systemic racism across the country.

Christine Billau is UT's Media Relations Specialist. Contact her at 419.530.2077 or christine.billau@utoledo.edu.
Email this author | All posts by Christine Billau
---