Engineering Students Making 3D-Printed Face Shields for Healthcare Workers
April 15th, 2020 by Christine Billau
From his home a few minutes away from The University of Toledo campus, Nick Michael has cranked out 120 face shields and donated them to hospitals throughout the Toledo area to help medical personnel battling the COVID-19 pandemic.
The graduate student studying mechanical engineering is using two 3D printers and a laser cutter as part of his ad-hoc assembly line set up in a small room next to his bedroom.
"People need help, and I have the time and the materials," said Michael, whose co-op working experience is in the automotive industry. "It's the right thing to do."
Meanwhile from his home office in Sylvania, fourth-year electrical engineering student Cameron McCaskey has built 84 face shields using his 3D printer.
Both engineering students say cleanliness and hygiene are the top priority throughout the entire process as they use 3D printers to make the frame – somewhat similar to a frame for sunglasses – and then attach a clear plastic shield to the arches.
"I found the medical design specifications on the internet because I want to help," McCaskey said. "It takes about 25 minutes to 3D print one frame. And then I use a three-hole puncher to make holes in the transparent sheet to connect it to the frame."
They order the clear screens online, finding you can buy about 100 for $15.
"I wash my hands before I start and wear a visor," said Michael, who averages about five frames an hour using both 3D printers. "With the frames, I do an acetone dip. It melts the outer surface and closes them up so there's no gaps. Then I wash them with soap and water."
Though this is their first foray into fabricating medical supplies, they say all engineers are problem-solvers and have the skills to follow the guidelines for personal protective equipment during this public health emergency.
"People have a misconception about 3D printing," Michael said. "The files are already out there. You load them onto a pre-built slicing program. It's not that hard to run."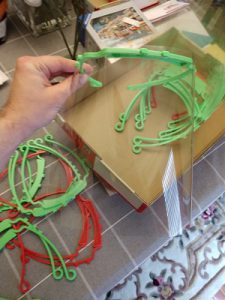 Michael and McCaskey are donating their face shields to the local chapter of Masks for Docs, which is led by UToledo medical students.
"I am always proud and impressed by what our engineering students accomplish in their classes and on their own time," Dr. Mike Toole, dean of the College of Engineering, said. "The students' work epitomizes what we are trying to accomplish in the College of Engineering in instilling an entrepreneurial mindset. Students focus not just on problem-solving, but on creating value for a customer. In this case, the customers are our regional healthcare workers, who deserve our
thanks and our help. Our initiatives in entrepreneurial-minded learning are made possible thanks to Tom and Betsy Brady, founders of Plastics Technology Inc., and our recent partnership with the Kern Entrepreneurial Engineering Network."

Christine Billau is UT's Media Relations Specialist. Contact her at 419.530.2077 or christine.billau@utoledo.edu.
Email this author | All posts by Christine Billau
---