UToledo professor elected Fellow of renowned scientific society
December 3rd, 2019 by Christine Billau
A professor at The University of Toledo has been awarded one of the highest honors a scientist can earn.
Dr. Amanda Bryant-Friedrich, professor of medicinal and biological chemistry, is among the 443 scientists elected in 2019 as Fellows of the American Association for the Advancement of Sciences (AAAS), the world's largest general scientific society.
The lifetime appointment is an honor bestowed upon the society's members by their peers and recognizes individuals for their efforts in advancing science applications that are deemed scientifically or socially distinguished.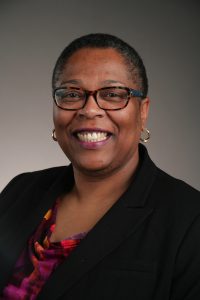 Bryant-Friedrich has created tools for the study of oxidative damage processes in DNA and RNA, contributing to the development of new, more effective ways to treat or prevent cancer, neurological disorders and age-related disorders.
Her research also includes biomarkers, photochemistry, mass spectrometry and ionizing radiation.
"I am thankful to be elected as a Fellow to the AAAS for the contributions I have made to the science that I love," said Bryant-Friedrich, who also serves as dean of the College of Graduate Studies, vice provost for graduate affairs and director of the Shimadzu Laboratory for Pharmaceutical Research Excellence. "Scholarly recognition by one's peers is the highest honor, and recognition for my work validates my efforts. I credit this honor to the wonderful like-minded, adventurous students and colleagues who have accompanied me along this journey."
The AAAS includes more than 250 affiliated societies and academies of science, serves 10 million individuals, and publishes the journal Science. It was founded in 1848 and its tradition of naming AAAS Fellows began in 1874.
"This prestigious national honor for Dr. Bryant-Friedrich brings great pride to our campus," UToledo President Sharon L. Gaber said. "Recognition by AAAS is an external validation of our talented experts determined to advance science and improve our world."
Bryant-Friedrich, who joined the University in 2007, will be honored in February at the organization's annual meeting in Seattle.
She shares this honor with four UToledo colleagues who were previously elected to AAAS: Dr. Heidi Appel, dean of the Jesup Scott Honors College; Dr. Karen Bjorkman, UToledo interim provost and executive vice president for academic affairs; and Dr. Steven Federman, professor of astronomy, who were named Fellows in 2017; and Dr. Jack Schultz, who recently retired from his position as senior executive director of research development and has been an AAAS Fellow since 2011.
Last year Bryant-Friedrich was named a Fellow of the American Chemical Society.
She received a bachelor of science degree in chemistry at North Carolina Central University, a master's degree in chemistry from Duke University, and a doctorate in pharmaceutical chemistry from Ruprecht-Karls Universität in Germany. In addition, she conducted postdoctoral studies at the University of Basel in Switzerland.

Christine Billau is UT's Media Relations Specialist. Contact her at 419.530.2077 or christine.billau@utoledo.edu.
Email this author | All posts by Christine Billau
---