UToledo to commemorate 18th anniversary of Sept. 11 terror attacks
September 9th, 2019 by Christine Billau
The University of Toledo is commemorating the 18th anniversary of the Sept. 11 terrorist attacks with the second annual Run to Remember, a 22 push-up challenge and a memorial stair climb.
The UToledo Army ROTC Program is inviting the community to participate in its second annual Run to Remember Wednesday, Sept. 11.
Registration and T-shirt pickup will begin at 7 a.m. at the UToledo track by the Health Education Center on Main Campus. An opening ceremony will follow at 7:30 a.m., and the run and walk will begin at 7:40 a.m.
University Hall's bell tower will chime at 8:46 a.m., the time when the attacks began in 2001, and the event will conclude with a moment of silence.
"We're running to honor and commemorate the men and women who showed selfless service as they descended to Ground Zero to help in the search and rescue efforts of those who were either injured or killed during the 9/11 attacks," Maj. Colby Pepon, professor and chair of the Military Science and Leadership Department, said.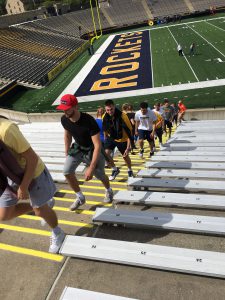 The 9/11 Memorial Stair Climb begins at 12:30 p.m. in the Glass Bowl. Participants will climb the equivalent to the 110 stories of the World Trade Center in honor of those lost in the 2001 attacks.
The UToledo Military Service Center will host the 22 Push-Up Challenge from 11 a.m. to 1 p.m. in front of Memorial Field House.
Campus and community members can stop by and do 22 push-ups — and learn more about the veteran suicide epidemic in the United States.
"We were looking for a way to raise awareness of veteran suicide on campus, and the 22 Push-Up Challenge model has seen great success in raising awareness across the country," said Eric Buetikofer, UToledo director of military and veteran affairs.
Representatives from the UToledo Military Service Center, University Counseling Center, UToledo ROTC, the Army National Guard, the Lucas County Veterans Service Commission and the Toledo Vet Center will be at the event to provide information.
The 22 Push-Up Challenge started in 2013 when Veterans Affairs announced an average of 22 veterans committed suicide every day. The campaign was started to promote awareness of veteran suicide prevention.

Christine Billau is UT's Media Relations Specialist. Contact her at 419.530.2077 or christine.billau@utoledo.edu.
Email this author | All posts by Christine Billau
---