UToledo professor wins national playwriting award at Kennedy Center
April 26th, 2019 by Christine Billau
Dr. Matt Foss, assistant professor in The University of Toledo Department of Theatre and Film, won a national playwriting award at the Kennedy Center for the Performing Arts in Washington, D.C.
His adaptation of "All Quiet on the Western Front" is the recipient of the Kennedy Center's David Mark Cohen National Playwriting Award.
The play was performed at the University last November.
The award includes a cash prize, membership in the Dramatists Guild and the Playwrights' Center of Minneapolis, and a professional development residency during summer 2019.
Foss accepted his award last week during the National Festival at the Kennedy Center.
Supported by the Kennedy Center American College Theater Festival, the Association for Theatre in Higher Education, and the Dramatic Publishing Co., the David Mark Cohen National Playwriting Award is presented in an effort to promote the writing and production of new plays and to provide incentive to college and university theater production departments to foster the growth and development of playwrights through the public presentations of unpublished, full-length plays or a collection of shorter works for the stage that have not received a professional production.
In 2016, Foss' touring production of "The Glass Menagerie" was performed at Russia's Moscow Art Theatre. He adapted and directed Upton Sinclair's "The Jungle" for Oracle Productions in Chicago in 2014. The production received Chicago Jeff Award nominations for outstanding production, director, ensemble, and won for best new adaptation.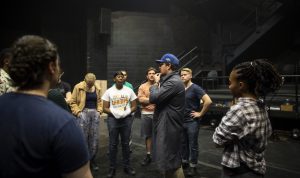 In 2012, his production of "Six Characters" at Iowa State University received the Kennedy Center's American College Theater Festival's National Award for Outstanding Production of a Play and Outstanding Director of a Play. He was a recipient of the Association for Theatre in Higher Education/Kennedy Center's American College Theater Festival's Prize for Innovative Teaching in 2013.
Foss received a master of fine arts degree in acting from Chicago's Roosevelt University and doctorate in theatre studies and directing from Wayne State University in Detroit.
Recent professional credits include Chicago Shakespeare Theatre, Oracle Theatre, Montana Shakespeare in the Parks, American Blues Theatre, the Jewish Ensemble Theatre and Tipping Point Theatre.

Christine Billau is UT's Media Relations Specialist. Contact her at 419.530.2077 or christine.billau@utoledo.edu.
Email this author | All posts by Christine Billau
---