Public invited to Lake Erie Center talk on saving birds in urban areas
February 14th, 2019 by Christine Billau
We often hear about the psychological benefits of reconnecting with nature. Take a walk. Listen to birds chirping. Plant flowers.
Bringing people back into harmony with nature also can save wildlife.
The University of Toledo Lake Erie Center is hosting a free, public event about community-level solutions to wildlife conservation in an increasingly urban landscape.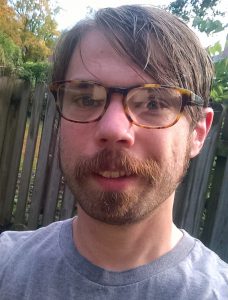 Matthew Shumar, program coordinator for the Ohio Bird Conservation Initiative and co-editor of "The Second Atlas of Breeding Birds in Ohio," will give a talk titled "It Takes a Village" 7 p.m. Thursday, Feb. 21 at the Lake Erie Center, 6200 Bayshore Road in Oregon.
The avian ecologist plans to speak about the Ohio Bird Conservation Initiative's Lights Out program designed to address light and glass issues that threaten birds in urban areas.
"Artificial lighting has become a major concern for migratory bird populations," Shumar said. "Birds attracted to bright lighting often fatally collide with buildings, and it is estimated that between 365 and 988 million birds are killed by collisions each year in the United States."
"Programs like the ones led by Matt are making a measurable difference in human impacts on migratory birds," said Dr. Henry Streby, ornithologist and assistant professor in the UT Department of Environmental Sciences. "Often the hardest part is gaining the attention of the public and policy makers about small changes that can make big differences for conservation. That's the hard work that Matt and his colleagues are taking on."
Streby studies rare songbirds and red-headed woodpeckers. His groundbreaking migration research revealed the key to population declines in golden-winged warblers.
The Ohio Bird Conservation Initiative is a collaboration of nonprofit groups, businesses, citizens and state and federal agencies working to advance bird conservation efforts.
Shumar's talk is part of the Lake Erie Center's Public Lecture Series.
A shuttle will be available to transport passengers from UT's Main Campus to the Lake Erie Center and back. The shuttle departs at 6:15 p.m. from the south side of Bowman-Oddy Laboratories, 3100 West Towerview Blvd. Passengers must reserve a spot.
Email lakeeriecenter@utoledo.edu or call 419.530.8360 to make a reservation for the shuttle.
The Lake Erie Center is UT's freshwater research and science education campus focused on finding solutions to water quality issues that face the Great Lakes, including harmful algal blooms, invasive species and pollutants.

Christine Billau is UT's Media Relations Specialist. Contact her at 419.530.2077 or christine.billau@utoledo.edu.
Email this author | All posts by Christine Billau
---