Events at UT to spotlight Native American Heritage Month
October 31st, 2018 by Christine Billau
A talk by a modern medicine woman, a chance to make a dream catcher, and a film screening are some of the events that will take place at The University of Toledo in November for Native American Heritage Month.  
"We are thrilled to host Deborah 'Eagle Cloud' Ayres, who will share her experience as a medicine woman," said Dr. Michele Soliz, associate vice president for student success and inclusion in the Division of Student Affairs. "Other events this month will celebrate the contributions and cultural richness of Native Americans."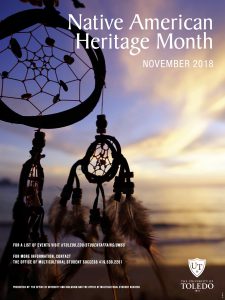 Ayres will give the keynote address, "Indigenous Healing for Modern Times," 5 p.m. Wednesday, Nov. 14 in Thompson Student Union Room 3018.   
"Healing is the inward journey back to your divine self: The body, mind and heart are various paths to your center," Ayres wrote on her Facebook page.  
She is an expert in Native American spirituality and runs a healing practice in Sylvania. 
Listed by date, other events taking place will be: 
Monday, Nov. 5 — Native American Heritage Month Kickoff: Three Sister Soup Tasting, 11 a.m. to 2 p.m. in the Thompson Student Union Trimble Lounge. Stop by to sample the soup that is a combination of beans, corn and squash, foods traditionally grown by many Native American tribes.

 

 Wednesday, Nov. 7 — Native American Heritage Month Diversity Dialogue, 5:30 p.m., Thompson Student Union Room 2584. The discussion will focus on issues that affect Native Americans and how these issues are relevant today in multiple marginalized communities.
Thursday, Nov. 15 — Create Your Own Dream Catcher, noon to 2 p.m., Thompson Student Union Trimble Lounge. Learn the symbolism of the dream catcher and make your own protective charm.

 

 Wednesday, Nov. 28 — Film screening, "Reel Injun," 6 p.m., Memorial Field House Room 1200.The 2009 Canadian documentary explores the portrayal of Native Americans in film. The 85-minute film traces how images of Native Americans in cinema have influenced understanding and misunderstanding of their culture and history.

 

Christine Billau is UT's Media Relations Specialist. Contact her at 419.530.2077 or christine.billau@utoledo.edu.
Email this author | All posts by Christine Billau
---