Women & Philanthropy to donate books to 40 TPS second-grade classrooms
October 15th, 2018 by Christine Billau
Women & Philanthropy and the Judith Herb College of Education at The University of Toledo are donating more than 1,300 new books to Toledo Public Schools.
The books will be distributed to 40 second-grade classrooms at 21 TPS schools.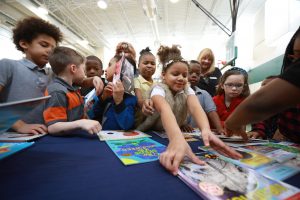 Marcy McMahon, the chair of Women & Philanthropy, and Dr. Romules Durant, TPS superintendent, will present the books to representatives from each school 10:30 a.m. Thursday, Oct. 18 at Old Orchard Elementary School, 2402 Cheltenham Rd.
"Second grade is a critical year for learning to read," said Dr. Thea Sawicki, chair of the Holiday Project for Women & Philanthropy and professor in the UT Department of Medical Microbiology and Immunology. "We are proud to support every school by providing elementary classroom teachers with additional resources to promote early literacy and allow elementary students to gain greater reading skills."
This is the second year that fundraising for the Encouraging Early Literacy Holiday Project allowed Women & Philanthropy and the Judith Herb College of Education to donate more than 1,000 new books to TPS second-grade classrooms.
Last year the organizations donated approximately 1,000 books to 33 second-grade classrooms at 19 TPS schools.
This year's donation covers the remaining classrooms and completes the goal of donating books to start a library in every second-grade classroom at TPS.
"The gift of a book and its potential impact on a young learner's life cannot be overstated, and should not go unrecognized," Dr. Raymond Witte, dean of the UT Judith Herb College of Education, said. "It is with great pride that we recognize our association with Women & Philanthropy and their mission to better the lives of children in the Toledo region."
"The Toledo Public Schools is grateful for the continued support of Women & Philanthropy at The University of Toledo," Durant said. "Our mission is to create college and career-ready students, and that begins with early literacy. Last year, our students received 1,000 books to be distributed in 33 classrooms, which was incredible in and of itself. This year, we are receiving an even larger donation of 1,300 books for 40 classrooms. We are very thankful for the partnership and also their commitment to helping us deliver on our mission."

Christine Billau is UT's Media Relations Specialist. Contact her at 419.530.2077 or christine.billau@utoledo.edu.
Email this author | All posts by Christine Billau
---