Area students to learn about health-care fields at CampMed
June 12th, 2018 by Christine Billau
Thirty-nine students from northwest Ohio will experience what it's like to study medicine this week at The University of Toledo's CampMed program.
The high school freshmen will be on Health Science Campus Thursday and Friday, June 14 and 15.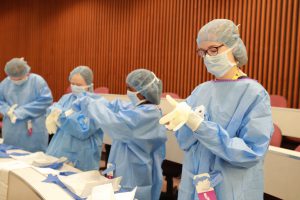 From preparing to dress for the operating room to learning how to make a cast and suture, the students will participate in several hands-on lessons during the program.
"CampMed is a wonderful program for underserved high school students from northwest Ohio to be exposed to careers in medicine and health care while learning about the educational opportunities available to them on The University of Toledo Health Science Campus," said Courtney K. Combs, director of the UT and Ohio Area Health Education Center programs.
The students will begin Thursday morning after the welcoming ceremonies with a tools-of-the-trade session where they will learn to use medical instruments, including blood pressure cuffs and stethoscopes. Lessons will continue for two days with opportunities to tour a gross anatomy lab, the Jacobs Interprofessional Immersive Simulation Center and a plastination museum.
"Campers are often first-generation college, underrepresented minorities, and/or live in rural or urban underserved communities," Combs said. "They are all high-achieving individuals who show an interest in STEMM, and CampMed provides the exposure and inspiration needed to pursue a career in medicine or health care."
CampMed, which began in 1998, is coordinated through the UT Area Health Education Center program, which works to improve the well-being of individuals and communities by developing the health-care workforce.
The competitive scholarship program requires students to submit a letter of recommendation, a nomination from a science or math teacher or counselor, and a personal essay to be chosen to participate.
First- and second-year UT medical students serve as camp counselors, and the campers also interact with physicians and faculty members.
Media opportunities:
Thursday, June 14, 1 to 4 p.m.
Perioperative experience — Health Education Building Room 103
Plastination Museum — Block Health Science Building Basement
Friday, June 15
Heartsaver CPR — 9:15 to 11:30 a.m. in Collier Building Basement
Casting — 1 to 4 p.m. in Orthopaedic Center Room 1715
Suture Workshop — 1 to 4 p.m. in Health Education Building Room 105

Christine Billau is UT's Media Relations Specialist. Contact her at 419.530.2077 or christine.billau@utoledo.edu.
Email this author | All posts by Christine Billau
---