UT, AAA to kick off series of free, public seminars on autonomous vehicles Feb. 7
February 1st, 2018 by Christine Billau
As vehicles equipped with self-driving technologies are poised to become the future of transportation, The University of Toledo College of Engineering and AAA Northwest Ohio are teaming up to host a series of free, public talks to educate consumers about how smart cars will impact the world.
The first seminar in the bi-monthly series to help drivers be informed, prepared and comfortable with the shift in mobility is from 3 to 5 p.m. Wednesday, Feb. 7 in UT's Nitschke Auditorium. General Motors will have an autonomous vehicle on site.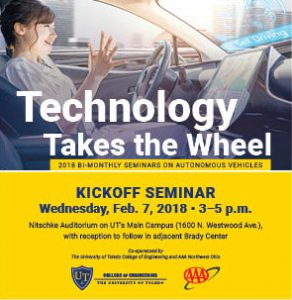 Speakers include Dave Hobbs, field service training instructor for Delphi Products and Service Solutions, and Greg Brannon, director of automotive engineering and industry relations for AAA. Both speakers will participate in a panel discussion featuring UT engineering researchers Dr. Eddie Chou, Dr. Ahmad Javaid and Dr. Jared Oluoch.
"The biggest impact of autonomous vehicles in the near future will be a significant reduction in the number of traffic crashes, therefore saving thousands of lives each year," said Chou, professor of civil engineering and director of the Transportation Systems Research Laboratory at UT. "It will fundamentally change transportation mobility and how people travel."
Immediately prior to the event, media is invited from 1:30 to 2:30 p.m. to experience riding in a self-driving car.
"Autonomous cars have the potential to reduce traffic congestion, provide infotainment services to road users, and reduce carbon emissions," said Oluoch, UT assistant professor of computer science and engineering technology. "While this is a promising technology, it also is a double-edged sword. Security concerns and job losses are emerging as some of the primary challenges of autonomous-vehicle technology. This seminar series is the first among many to highlight the technology behind autonomous cars and the promise it holds for the future."
Register for the free, public seminar online at utoledo.edu/engineering/webforms/technologytakesthewheelform.html.
The next event in the series will be Friday, April 13 and focus on the topic of autonomous vehicles and cybersecurity.
American drivers are beginning to embrace self-driving vehicles, with male and millennial drivers most accepting of the new automotive technology, according to a new study by AAA.
The annual survey reveals that 63 percent of U.S. drivers report feeling afraid to ride in a fully self-driving vehicle, a decrease from 78 percent in early 2017. Millennial and male drivers are the most trusting of autonomous technologies, with only half of those drivers reporting they would be afraid to ride in a self-driving car.
"Americans are starting to feel more comfortable with the idea of self-driving vehicles," Brannon said. "Compared to just a year ago, AAA found that 20 million more U.S. drivers would trust a self-driving vehicle to take them for a ride."
The new survey results come as state officials take steps to move the conversation on autonomous vehicles forward in Ohio. The Ohio House Transportation and Public Safety Committee began hearings on the development of the new technology last year.
Tags: College of Engineering

Christine Billau is UT's Media Relations Specialist. Contact her at 419.530.2077 or christine.billau@utoledo.edu.
Email this author | All posts by Christine Billau
---