Wetland restoration project helps prevent bacteria from entering Maumee Bay
May 21st, 2015 by Meghan Cunningham
There should be fewer days when Maumee Bay beaches are under a public health advisory this summer thanks to a wetland restoration project led by a University of Toledo professor.
The Great Lakes Restoration Initiative Project includes the addition of a sedimentation pond in Wolf Creek and treatment wetland at Maumee Bay State Park that will filter out Escherichia coli bacteria and phosphorus pollutants before runoff water enters Lake Erie.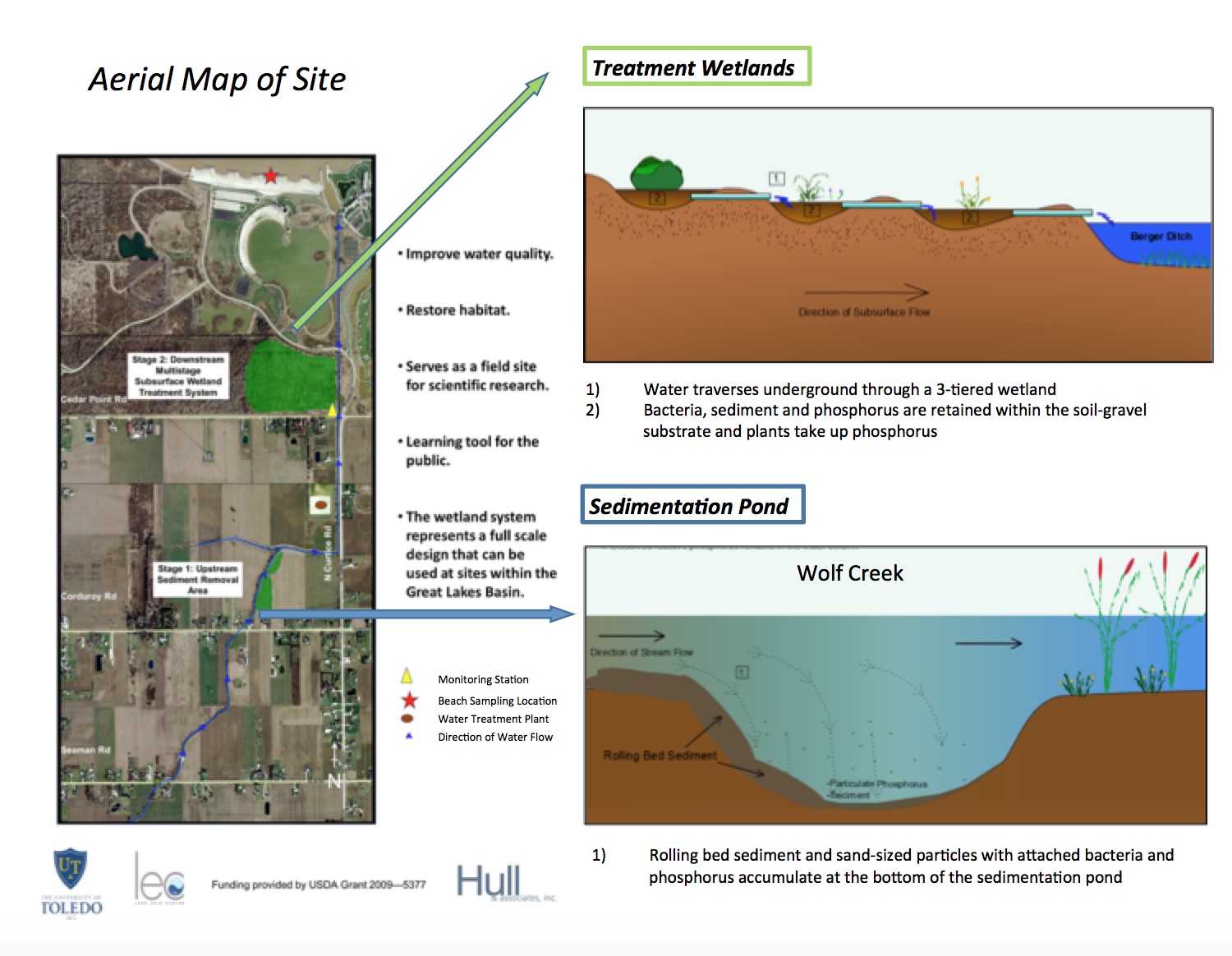 "The goal is for better water quality at Maumee Bay State Park, which in recent years has had health advisories posted 20 percent of the time due to high levels of bacteria in the water and that has had a negative impact on attendance to the beaches," said Dr. Daryl Dwyer, UT professor of environmental sciences, who led the restoration.
Congresswoman Marcy Kaptur and UT Interim President Nagi Naganathan will join Dwyer to recognize the completion of the project at 10 a.m. Wednesday, May 27, at the east entrance of Maumee Bay State Park on the corner of Cedar Point and North Curtice roads in Oregon.
The project was funded with two Great Lakes Restoration Initiative grants totaling $1.8 million called "Passive Treatment Wetland to Improve Nearshore Health and Reduce Nonpoint Source Pollution" and "Reduction of Sediment and Bacteria Loadings to Public Beaches at Maumee Bay State Park via Enhanced Riparian Habitat."
The two-stage treatment system begins with the sedimentation pond in Wolf Creek where rolling bed sediment and particles with attached bacteria and phosphorus would accumulate at the bottom of the pond. The design has the capacity to remove 20 years of sediment from the creek with the option to be dredged to extend the lifespan. The accumulated sediment would then be reused by farmers to fertilize their crops, Dwyer said.
The water would then traverse through a three-tiered wetland where additional bacteria, sediment and phosphorus are retained and the plants take up the extra phosphorus.
Early data observations show better than expected water quality improvements with a 94 percent reduction in E. coli bacteria and a 50 percent reduction in total phosphorus, Dwyer said.
Dwyer and his research team are investigating ways to scale up the project in the Maumee River watershed with other target locations for similar restoration projects to prevent the nonpoint source pollutants from entering Lake Erie in other areas.
Click here to download image.
Media Coverage
13 ABC, WTOL 11, NBC 24 and FOX Toledo (May 28, 2015)
The Blade (May 28, 2015)
Dredging News Online (May 29, 2015)
Tags: College of Natural Sciences and Mathematics

Meghan Cunningham is UT's Director of University Communications. Contact her at 419.530.2410 or meghan.cunningham@utoledo.edu.
Email this author | All posts by Meghan Cunningham
---